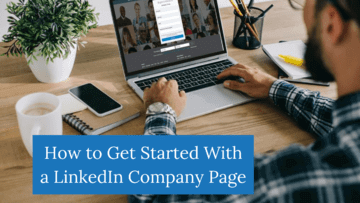 With chambers of commerce closed and networking opportunities reduced to Zoom happy hours, where can businesses go to find new customers or mix 'n' mingle with other businesses?
The best place for a B2B business to connect online is LinkedIn, hands down. After all, LinkedIn is "the world's largest professional network on the internet" (according to LinkedIn).
They aren't just whistling Dixie though. LinkedIn has grown exponentially since its official launch back in 2003, and now boasts almost 700 million users in more than 200 countries around the world.
Plus, with over 30 million companies listed on the platform, and an ad reach of 160 million users, LinkedIn is a great place to increase your visibility online.
But before we get too far ahead of ourselves, let's take a step back to talk about how to get started on LinkedIn with one of the most important pieces of the puzzle: your company profile.
Personal Profile vs Company Profile
LinkedIn, similar to Facebook, has two different types of profiles: personal and organization.
Your personal profile, or, as LinkedIn calls it, "member profile," is like a digital CV or resume. You have a picture, a space to write an online "cover letter" (aka the About section), and a section to list your work/educational experience.
This profile is what will show up in a search on LinkedIn, and anything you share will show up under this profile by default.
A company profile (or organization profile) is where information specific to your company would go – independent of the individuals who make up the company. Individuals who are part of the company can follow the company/organization profile and can post on behalf of the company.
'So what's the big difference?' you might wonder. 'Do I even need a company page?'
Though these types of pages/profiles have similarities, there are a couple of key differences. In addition to helping differentiate you from your business, the only way you can run ads on LinkedIn is through a company page. A personal profile has more sections to fill out (like Activity, Skills & Endorsements, Recommendations, etc). And you can't set up a company page without a personal profile.
As for whether you really need a company page, well, it depends on your business goals and what kind of company you have.
If you're a sole proprietor and you are virtually indistinguishable from the business itself, you might not need a company page. It's likely you'd reap greater benefits from focusing on your personal profile and growing your personal network.
However, if you're thinking ahead to future growth and how you might build a brand, then it makes sense to start a company page. That will allow you to extend your organic reach and eventually start advertising to LinkedIn's extensive network.
How to Create Your Company LinkedIn Page
Luckily it's pretty easy to create your company page. Here's a quick (less than 2 minutes!) video to walk you through the steps.
You did it! You successfully created your LinkedIn company page – now what?
Fill out all the info for your page completely. That's right, every bit of the overview, add a logo and cover picture, and list all your company's details. Pages that are filled out completely get 30% more weekly views than pages that are not.
Share your company page with any employees and ask them to connect their personal profiles to the company.
Start posting as your company – and don't forget to ask your employees to share your posts!
Still, not sure what to do? We've got you covered with the basics over on the eJenn YouTube channel. There's a LinkedIn playlist with step-by-step videos dedicated to helping you increase your visibility on LinkedIn, so check it out! You can also take a look at LinkedIn's action plan for small businesses for some tips.
Start Your LinkedIn Company Page Today
Now that you know more about how LinkedIn company pages work, try creating your own company page and see if you can grow your audience. Remember, if you need help with strategy or social posts, eJenn Solutions is here to help! Schedule a time to chat with us here: https://ejennsolutions.com/contact/
(Click the video below for a step-by-step tutorial on creating a LinkedIn Company Page!)