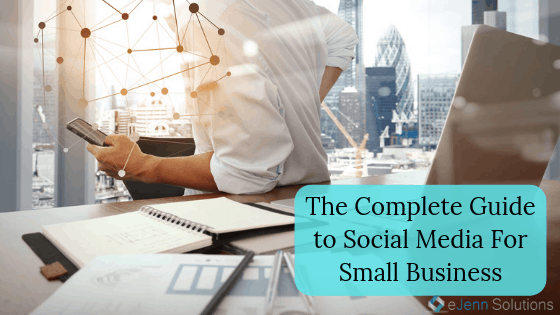 Social Media is everywhere.
It's the buzzword that has been flying around for some years now.
Moreover, businesses discovered that they could tame the 'social media beast' and transform it into real help when it comes to reaching out to their audience and engaging with them in an easy and effective way.
While finding and keeping customers is a challenging task, maintaining and building relationships with the customers that you already have can be even more so. And that's where social media comes in.
On social media, your audience tells you what their experience with your company was like, what they loved, what they didn't like and what they expect from you in the future. Feedback from clients is a gold mine for small businesses looking to grow and to enrich the overall customer experience.
But what happens when you're a small business owner that wants to keep up with their audience on social media? How can you manage it all and also spare some time for social without getting overwhelmed?
Well, we hope that with this complete social media guide we can help you lift a little pressure off your shoulders and make you feel more confident when you explore this dynamic social media world. 😉
So, let's take it one step at a time. 👇
Why is it Important to Have a Social Media Strategy?
Having a social media strategy set in place will help you see clearly what goals you want to achieve, how to easily measure your efforts and how to continuously improve your approach. Therefore, it's important to take the time and create a really thought-out strategy before you start posting online.
But how do you create a successful social media strategy for your small business?
Here are some smart tips that will help you out in the process:
Set your social media goals
Set relevant goals that follow the S.M.A.R.T. goal framework. These goals should be specific, measurable, attainable, relevant, and timely.
Additionally, it's important to base your goals on KPIs that will actually have a real impact on your business, like boosting your web traffic, generating more leads and increasing your conversion rates.
Get to know your audience
Make sure to gather all the necessary data about your target audience and develop a detailed buyer persona. After you learn who your customers are – what are the problems they are struggling with and what needs and wants they have – you can adjust your strategy and reach out to them more easily.
Learn from your competitors
What is your competition doing on social media? Analyzing their strategy is a great opportunity for you to learn from their mistakes and gather insights for your own business.
Take a look at other businesses' social media accounts and learn from their success. Obviously, that doesn't mean that what worked for them will certainly work for you, but social media is all about trial and error. So, find your inspiration and get creative.
There are a lot of great tools that can help you when it comes to creating valuable and engaging content for your audience:
for creating stunning graphics, there are platforms like Canva, Stencil or PicMonkey that offer a lot of great templates and ideas for each social media platform; for curating compelling articles to post, you can try BuzzSumo, Pocket or Quuu which can save greatly simplify your task and save you a lot of time.
Create a social media calendar
A social media calendar will make sure that your content is posted at the right time and on the right social media platforms. So, if you want to save time when it comes to planning and posting on social media, you should consider trying out a scheduling tool.
An essential part of your social media strategy is also to understand how to leverage each social media platform in order to achieve your goals.
And guess what? Each platform comes with its own particularities. 👇
Social Media Platforms: Where is Your Target Audience?
Each of the main social platforms popular today have their own particularities when it comes to the ways they are being used by people. As a result, businesses started to use each platform slightly differently to connect and engage with their audiences.
Here are the main social platforms with their own particularities:
Here are the main social platforms with their own particularities:
1.Facebook – is ideal for businesses that want to generate leads and build long-term relationships with their customers.
hashtags don't really work on this platform
you can create engaging copy for your articles in order to boost web traffic
don't overlook the power of paid ads
emojis and cool graphics are a must for your content strategy
2. Twitter – is perfect for businesses whose major audience looks for time-sensitive information like breaking news, announcements/ promotions, and trending topics.
make sure to engage more than broadcast
ask questions, create Twitter polls or hop in on public conversations that interest your audience
join in on trending topics
take advantage of the 280 character limit and get more creative
don't neglect Twitter videos
3. LinkedIn – is a platform created specifically for business networking. It can be used by both B2B and B2C businesses to create customer trust, build authority and engage with clients/ prospects.
use relevant, industry-related hashtags
curate educational and comprehensive articles for your LinkedIn audience
videos (especially native videos) also drive a lot of engagement on LinkedIn, so make sure to add them to your content mix
post consistently during the working hours Monday till Friday, because that's when people check LinkedIn most
4. Instagram – is the most visual out of all the other platforms that offer two different posting formats, short-lived, more informal stories and permanent posts.
make sure to use relevant hashtags and also branded hashtags
create an engaging copy for your posts that hooks your audience
take time to create eye-catching graphics for each of your posts
don't hesitate to take advantage of stories to engage your audience
5. Pinterest – is a great platform for businesses with visual appeal (like restaurants, fashion, travel, etc.) and also an important lead generator because so many users explore the site to plan future purchases.
pin consistently
use hashtags to make your content more discoverable (up to 20 hashtags)
add relevant keywords in your pin descriptions
there are shoppable pins and many other cool features for Pinterest business accounts that you should definitely explore and use
6. Google My Business – is a free business listing on Google that allows a business to show up on searches and maps, making it easier for customers in a certain area to get in touch with local businesses
here you can share blog articles, promotional posts, seasonal posts, etc. and also add a CTA to it
Make sure to check out our latest article on Google My Business here.
Conclusion
What you must always remember is that social media marketing is a trial an error process, where genuine engagement happens when you know how to communicate and listen to your audience on a daily basis.
Also, you must always keep an eye on what trends will come next. Will 2020 be the year of domination of social videos, social commerce, chatbots, VR and AR marketing? It might be and it's your responsibility to stay up-to-date with all the social trends that can lead your business to success through customer engagement and loyalty.
Whatever the future of social media will bring about we'll make sure that you are up-to-date and ready. So stay in touch with us and let's chat! 😉