It's here! Another holiday season is underway. Black Friday, Cyber Monday and whatever else you can come up with to get people to buy. I really think that this year, retail started their Christmas rush way, way, way too early. (For me personally)
That being said … you should already have your holiday strategy going – if not, here's some tips and suggestions to implement now!
Update your Google My Business Page Holiday Hours: Go into your Google My Business page and update your hours for the holiday season! People are searching on their mobile phones while out shopping … don't be passed over because you didn't update your hours!
Update your Google My Business Page with Holiday Posts/Specials: Create a post with any holiday deals. If you haven't used the new posting feature – you are missing out on valuable traffic! We've seen posts get thousands of impressions since using this feature!
Pin a Tweet: Create a special or holiday post and pin that special to the top of your Twitter feed! Don't have any specials? Say "Thank You" to all those who support you! Not sure how to pin a tweet? Here's a whole blog on pinning tweets!
Hashtags: Do some Twitter and Facebook searches to see what people are using in your area or industry for holiday hashtags. Get in the conversation with #ReleventHashtags …. (see what I did there?) Start your holiday hashtag search here: Twitter Search
Instagram: What would happen if you did photos of products as a Christmas countdown each day? (Think 12 days of Christmas) Have a service based business – showcase your talents in a fun way each day. What would happen if you featured your 12 top influencers on your Instagram? … do you see where i'm going? Think of visual ways to have fun with your sales, products or sites!
Check-Ins: Want more check in's? Try setting up a fun check-in contest! Best check-in photo uploaded each day gets showcased on your page! Are you responding to those check-ins where you can? (on Facebook – privacy setting may prevent your ability to do so)
Interactive In Store: Do you have something fun displayed or set-up to encourage check-ins AND photo opportunities within your store? Look around … get those creative juices flowing! I came upon a Christmas store that had a Santa on hand for their opening during a Jazz festival! Brilliantly thought up … but they didn't have their site up on Yelp or Google – so we could not "check-in" with the fun photos in their store. Don't miss out on these missed opportunities by only providing half the process!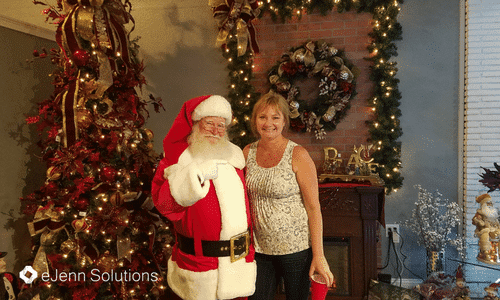 (say "hi" to my friend Laura and Santa!)
Reach Out to Past Posting Customers: On Instagram reach out to past accounts that have checked in to your business previously! Comment or tag them and let them know you miss them!
Holiday Uses For Your Products or Services: Are you having fun showcasing your products or services? Are you a graphic designer – showcase fun holiday graphics each day! Do you do videos – create fun holiday videos! Showcase a product you have via Facebook live video! (so easy to do!) The ideas are limitless!
Ask Your Customers to Get Creative: Starbucks does a fun contest encouraging people to get creative with their cups! This year's cup allows customers to get creative by creating their own cup: Starbucks 2017 Cup
OFFERS!: … probably one of the forgotten features of Facebook – the offer ads! Try offering just your Facebook peeps only an offer for your product or service. Do it as a holiday special or as a thank you for being a part of your brand.
Engage with people who don't know you: Remember that hashtag search we suggested above? What would happen if you reached out to all those tweeting and asked them a very specific question or had some witty conversations with them? Not creative or fun? Hire a comedy writer for the day and GO! Way back when I ran Jennifer's Review – I responded to every follower with a thank you and something I read from their profile. –> PEOPLE LOVED IT! < — they loved it because I was real and I made it about THEM!
Enjoy your holiday season- if you need some more inspiration – We're offering a discounted 1 hour Holiday Social Media Brainstorm session to help you with the holidays for $99! Sign up here: Schedule your appointment with Jennifer