Have you created your Google+ Local Business page yet? Google's search algorithm is evolving continuously. From time to time, the search giant tweaks its algorithm, sending waves across the internet. Since Google is the most popular search engine in the world, it is kind of mandatory for businesses to make changes to their online marketing strategies when Google changes its search results ranking policies, and strategies. Earlier, when users searched for a local product or service provider on Google, it used to return them 7-Pack results. This was essentially a list of 7 businesses that appeared in an order decided by the search engine after taking into account the distance of the business from the user and more importantly, the number of reviews the business has received. But now, this 7-pack has been further condensed into just a 3-pack.
Why is Google's 3 Pack so important for local business?
Here is an example of the current 3-pack view for a local search of a bakery in Orlando, Florida near the user's current location. (Previously, you would have seen 7 options, now it's only showing the top 3 based on ranking algorithms explained in the above paragraph) The options shown below are all businesses who have created a Google+ Local Business page. You can create your page here: Create a Google Local Business Page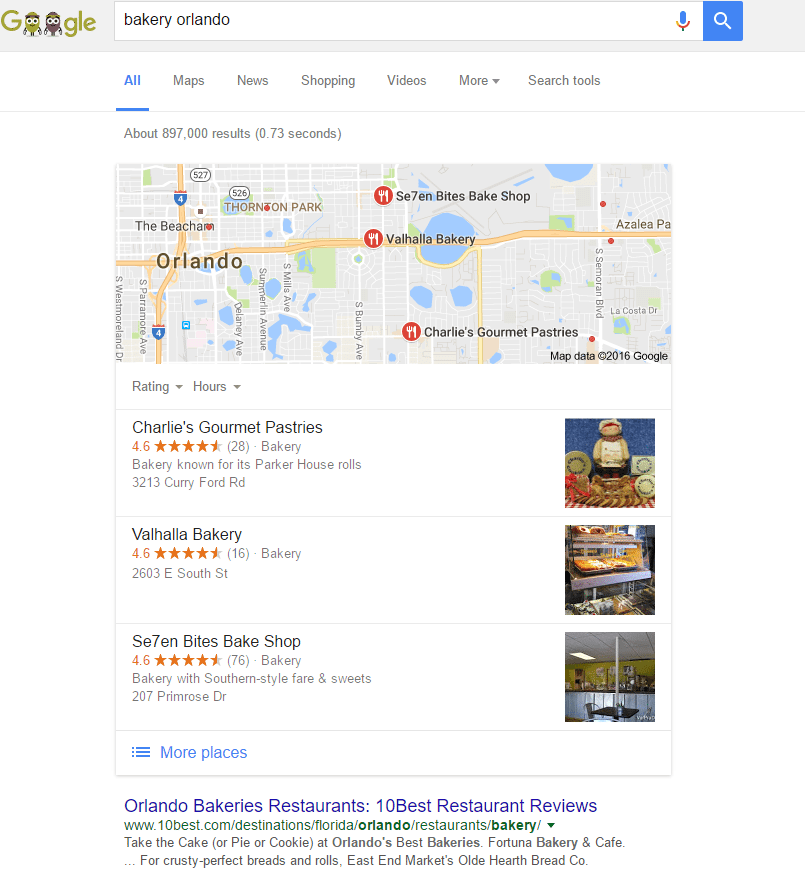 How does that affect a local business? Let's find out.
The Fight For a Spot on the Front Page Has Intensified
Since the number of slots on the front page just went down, it will further reduce the chances of a new local business to find a place there. This leaves the local businesses with only two hopes for succeeding. Either the user wants more options and keeps searching for more businesses, or the top three options have missed out on some important contact information, again forcing the user to click further for more results. Having more positive customer reviews is the surest way to make it into the coveted 3-Pack.
Businesses will Need to Maintain a Dialogue with Customers
No one likes bad reviews. However, small businesses should take bad reviews sportively and respond to the customers, nevertheless. Thank people for the good reviews, but do not just ignore the poor ratings. Have a word with the disgruntled client. Wherever possible, try to resolve their grievances, or at least help them understand your side of things. This will instill confidence in the present and prospective clients that their voice is being heard. An active account like this will always attract more reviews.
Maintain Accurate Information
Google has announced that it will be shutting down all the accounts that have not been verified. So, if you are a small business, then make sure that you keep all the Google Plus account information up to date and get it verified. Also get listed on Google My Business to increase your chances of getting listed on the front page.
Create Strategies to Get More Reviews
Since the location of the business is fixed, it is obvious that 'number of reviews' is the most important variable that businesses should focus on to secure a place in the 3-Pack. As a small business, go all out to increase reviews. Remind the customers to leave a review when they have completed a purchase. A link to the review page on your website will make it more convenient for customers to leave a review, and hence, more probable. Unfortunately, Google does not make it that easy to share the review link. We here are eJenn solutions are always looking for ways to help out our clients. We have created postcards for clients to send out to their email lists asking for reviews with a few good results.
Advertise
Google AdWords can give that much needed push to a company to get to its front page results. So, with these changes, businesses will need to spend a little more on Google ads from their marketing budgets. However, if you go back and look at that previous screen shot of the 3 pack – you'll notice that there are no ads above that 3 pack. That means that being in the top 3 is prime grade "A" digital real estate my friends… and you want to be there!
Organic Search is the King
Businesses will have to focus on optimizing their websites, get listed in local directories, post relevant content frequently, and so on. These steps make them more authentic in the eyes of Google and hence increases the chances of them finding a place on the 3-Pack.
Doing all these things will increase your chances of showing up in the top results. Also make sure all your information is complete and correct in your Google Local Business Page. There is a reason why all the page fields and options are listed on those pages … they are all used in Googles process, so fill them all out accurately!