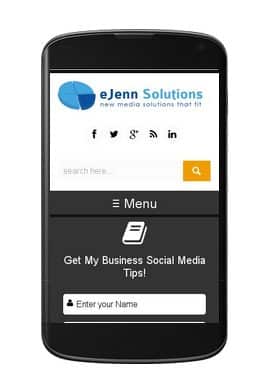 Google announced that on April 21st, 2015 all websites need to be mobile friendly. If your website isn't mobile friendly – it will have dramatic impacts on your search results. Pretty scary when your site is your source of income – so take note! To read Google's full website announcement click here: Google Mobile Friendly Website Announcement Blog Post
How To Know If Your Website / Blog Is Mobile Friendly:
Once again – with the April 21st announcement, Google helps us all out with a test site so that we are all compliant. Check to see if your website or blog is mobile friendly here: Mobile Friendly Analyze / Test Site
If your site is not mobile-friendly – we can assist by contacting us here: Contact eJenn Solutions
Apps Now Showing Up In Google Searches:
Along with the announcement of mobile friendly websites comes the ability for apps to show in searches. This is another factor for you to consider for your website – having an app. If you've done a mobile search in the last few days of this post, more than likely you've seen suggested apps show up in your Google search results. Great things for app developers and more opportunities to beat out your competition by having an app for your website!