How many hashtags does it take to get noticed on Instagram?
This is one of the questions I hear over and over. Not only am I asked this question repeatedly, but I myself have monitored how my posts do with a lot or a little amount of hashtags in them. Then when I get a response I wonder if it's a particular hashtag that I used or is it all of them that I used. How to know how many hashtags to use in an Instagram post is the debate of the day!
For those of you who do not know what a hashtag is, I have a whole blog post called "What is a hashtag?" for you to read!
For anyone that has spent significant time on Instagram – you've probably figured out the more hashtags the better. For those in the marketing field – you probably hold to an eye-rolling thought process of … "HOW many hashtags did that person just use?". For most marketers – hashtag over use is a sign of lacking quality in a post. For the professional, a beautifully created photo that tells a story will be all that is needed to capture views, hearts and engagement. The latter is true and easy to say when you have a full marketing department behind you or your a professional photographer. For those that may not have a professional marketing team – hashtags may be the way to go! I'll explain:
In a study done by MiniMaxir (source link below), he decided to use Instagram's API and scan over 120,000 photos to compare hashtag use to likes. The answer … there isn't a clear answer, but there are some great statistics!
Given that Instagram allows a maximum amount of hashtag use to 30 … he looked at the stats from using 1 hashtag in a post to using 30 hashtags in a post. We also are more concerned with "likes" on the posts with hashtags… meaning … what number of hashtags received the most likes!
As you can see from this diagram below the results are very interesting … 30 hashtags definitely brings the likes. Although if you read the full article – using up to 15 hashtags can bring some really great results too … and those smaller numbers may not annoy your followers who will have to see all those hashtags in your post.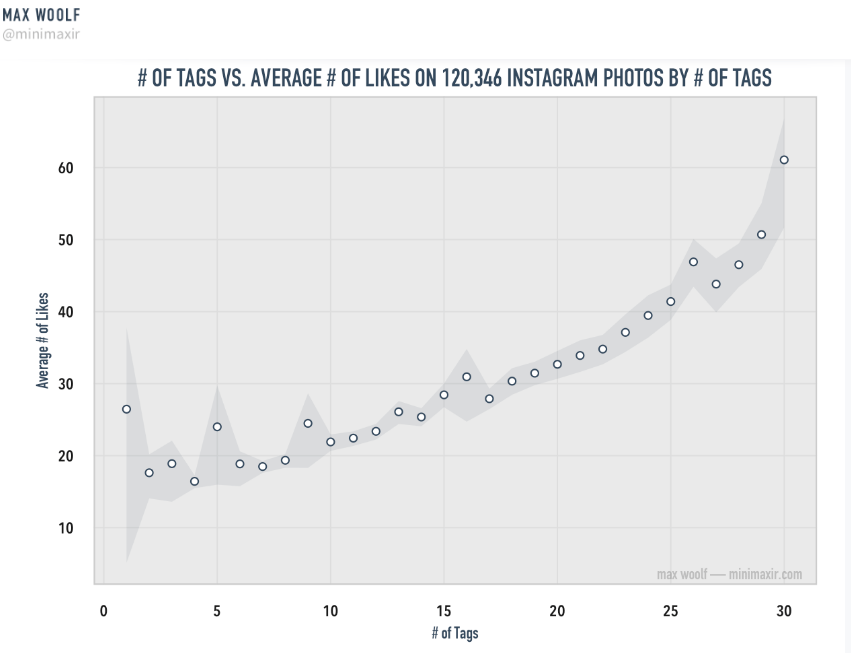 If you want to learn more about Instagram and if it's right for you, I have some crazy interesting stats for you!
Posts using location tagging and hashtags receive the most likes in general
Photos still receive much more engagement than video on Instagram
Over 80% of Interbrand 100 companies are using Instagram daily
Using the heart emoji is the most engaging on Instagram
So there you are, answers to some of your hashtag questions! Hashtag away my lovely Instagrammers!
Source Study: http://minimaxir.com/2014/03/hashtag-tag/