You can watch the full interview on YouTube by clicking this link here: YouTube Video Interview of Xenia Mateiu
Listen on your favorite podcast platform: Spotify, Amazon Music, Google Podcasts, Apple Podcast and Blubrry. Listen to podcast here
Hello everyone and welcome to another eJenn Solutions podcast! Today on the podcast we have Xenia Mateiu from Village Rock Shop in Carlsbad, California. I'm really excited to have her on the show today because she has successfully used Instagram to build up her business, which is a brick-and-mortar business as well as an online e-commerce store. Check out our interview below:
Jennifer: Thank you so much for coming on board, Xenia!
Xenia Mateiu: Thank you so much for having me, Jen. I'm really excited to be here because my business has only been around for a short time, about two and a half years, but we've been able to sustain our brick and mortar. It's sustaining our online team and without a team, I couldn't do it all on my own. While I'm the face of the business, I have an online team behind me.
Jennifer: How was that process of picking a team? Was that difficult for you or did that go rather smoothly?
Xenia: No, that was very difficult because sometimes you want things done a specific way or find an efficient way to work with people, so it's important to find the right people that you can be open with and who will actually help your business in terms of making sure you aren't missing things. I like talking a lot with other business owners. They usually have a lot of good insight because they have tried a lot of things that didn't work and a lot of things that did work for them, so it's nice to brainstorm with other business owners. But I feel like my team that's here every day and see clients know what the needs are.
Jennifer: So I just wanted to share this beautiful beach wave dream catcher that you gifted to me and it's stunning. Thank you so much! I noticed you put crystals in this dream catcher, which I've never seen before, but I'm assuming that these kinds of products are helpful for your Instagram strategy?
Xenia: Having unique items on Instagram definitely helps you stand out because so many people sell on Instagram right now. Some people only have Instagram, but because we have our brick and mortar AND an e-commerce store AND Instagram, it's really helpful to have unique content and do things our own way.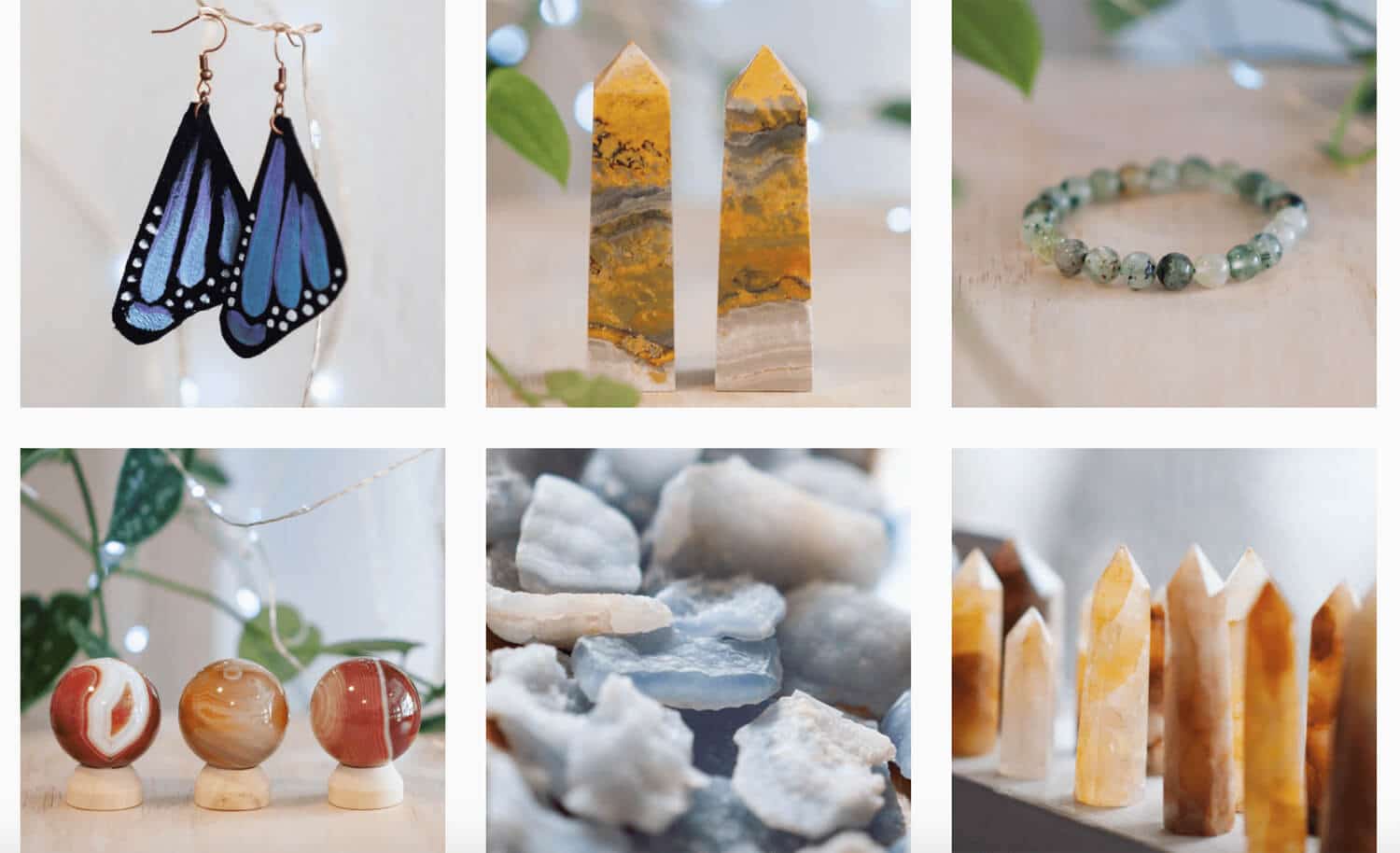 When I started my brick-and-mortar store, I also started an Instagram account. I saw how other businesses were getting a lot of followers, but not customers, and I didn't want that. I thought, "I want this to grow organically," so we tried to create as many personal relationships as possible on Instagram. We did a lot of private messages and sent out deals. We were really on top of messaging back and getting back to them on payment methods and quickly shipping. I don't feel like we have a lot of followers but the ones we do have are more than just numbers. That's more valuable to me than just a big number when you look at someone's page.
Jennifer: That's a smart strategy. Not a lot of people understand that you can have a large following, but if that doesn't translate to sales, it's useless. When you were doing Instagram, are you shooting your own pictures? Did you hire someone?
Xenia: Well, I actually have a degree in photography, so that helped a lot! It was easy for me to take the pictures, edit them quickly, and just get them out there. Otherwise, the expense of hiring a photographer for products would be so high.
Jennifer: I agree. What is one tip that you want to pass on to someone who can't do that? You hire a photographer, but it's a challenge to create the images you want for Instagram. Is it better to be minimalist or have a lot going on?
Xenia: I think having good backgrounds is so important, but also making sure you have space between the background and the product. If you're selling a product though, you definitely need to focus on the item and not have a lot going on. If the product is being used or needs to be portrayed in a specific environment, then that's OK to have a little more going on.
I like to combine greens and blues, that's a very harmonious color to the eye. I always try to incorporate that. Some things that are easy are to use the sky or even a plain white background with plants.
Jennifer: I like the tip about greens and blues. I'm curious but as a business owner, did you feel like this was fun, or did you feel like this was work?
Xenia: It's work, but I enjoyed it. I enjoy the products and the customers a lot. The photography was easy, so there wasn't like a lot of work, but it is time-consuming. Sometimes I'll be on Instagram for only a little bit because I have other things going on: put up a post of the product and then move on to other things. Other times I'll spend more time on Instagram and share with people a little more. For example, I'll give them some background information on a certain product or I'll share what a certain process is like.
Jennifer: Like a little bit more storytelling. Do you find those posts do better for you than the ones where you're really quick and just putting out a picture?
Xenia: Yes and no. I feel I have different customers. Some people are really into the geology part of the stones. So I definitely need a mix. Even for myself, sometimes I want more information, and then sometimes I just want it simple and easy.
Jennifer: I can imagine that! Do you solely use Instagram or are you using other platforms?
Xenia: No, I haven't had time for anything else.
Jennifer: So you focus on one platform where you can devote 100% of your time and that worked for you.
Xenia: You know, if it didn't work, I would have moved on because, from a business point of view, I can't put my time into something that's not working well. I figure I'll try it for a bit and if it doesn't seem to be working, then I can always try something else. Instagram supported our brick-and-mortar rent and with all that happened last year, I only had time for Instagram.
Jennifer: That makes sense because you didn't have people coming into the store and it was truly all online.
Xenia: There's so much to learn though. If I have the time to build both the brick and mortar, website, and Instagram at the same time, it will grow my business a lot. Right now I'm making decisions that focus on all of that. I hope to continue to expand the store, but also find a space for an office where I can focus.
Jennifer: This is a tough question because of the pandemic, but would you say the overall traffic to your brick-and-mortar is equal to the traffic you get on Instagram? Or was it vastly different?
Xenia: There is more opportunity on Instagram.
Jennifer: Because you have more of a national landscape versus that local business?
Xenia: Yes, and people are looking specifically for what I'm selling there. If I have the right hashtags and keywords, they'll usually find my store. Sometimes people will find me via Google and there are also people that just walk in, but that doesn't always translate to customers. I think anyone can succeed with an Instagram business if they have a unique product and they have their own way of doing things and advertising for it. There's going to be a lot of trial and error, but that's part of it. Having a camera is really helpful too.
Jennifer: What type of camera do you use or do you recommend?
Xenia: I have an older DSLR, but the lenses count a lot. So if you can take an F 1.8 or F 2.0 fixed lens that's 50 millimeters or 85 millimeters, that would be great. Small products look really great with 50 millimeters because it gives you a nice crisp look in front and then a faded-off background.
Jennifer: So what I understand is that Instagram is going to be part of your business strategy moving forward, no matter what happens and what you choose to do?
Xenia: Yes, that's correct. What's actually helped me a lot is to include the prices when I post my products. It takes time for people to private message and asks me, so I'm making things easier by just putting the price upfront. Then they can determine how much they can buy and afford.
Jennifer: That probably makes it easier to close the sale quickly too since there's no back and forth.
Xenia: Yes. Making the buying process fast and easily available is what's really important.
Jennifer: I was just going to say don't put a consumer or customer through loops and tons of clicks. It has to be an easy process. I'm looking at your website now and you have so many products! I know you wanted to talk about one specifically: the Shungite items. Tell us a little bit more about why these are so special to you.
Xenia: So shungite isn't well known and it's very hard to source, which is why I want to talk about it. It's a mineral that's been around since the 80s and 90s, but it's the only one that's been scientifically proven to help against EMF radiation that comes from computers and electronics. There are a lot of articles about this and people are studying it to test for water purification and other uses. It comes from a small town in Russia, so very hard to source, but what matters is the content of the carbon that's in it. If you want to use it for EMF radiation, then you need the highest quality.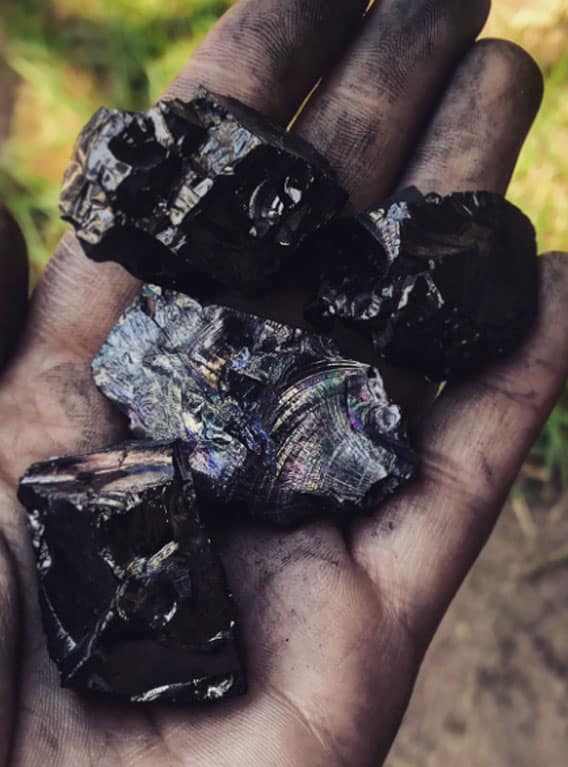 So last year, when everyone was staying at home and sitting at the computer, our shungite products did really well. People were doing research and discovering the benefits of shungite. So we were able to offer this unique product and keep people coming back. It's great for absorbing phone radiation and these products can offer a little more protection. I order from a Russian mine, so I get these boxes and my hands will be all black from handling the shungite. People love seeing the pictures though and sometimes they'll private message me and say, "Is this a stock photo?" and it's not.
Jennifer: Well, thank you very much, Xenia! This has been really enjoyable. I'll need to stop by when I'm in the area.
Xenia: I hope people found some valuable advice or maybe products they can try that might work for them. Thank you! This was a lot of fun!
Jennifer: Thank you so much for being on the show, Xenia! I hope to see you again. And for those of you listening, we love subscribers. Thank you for subscribing.