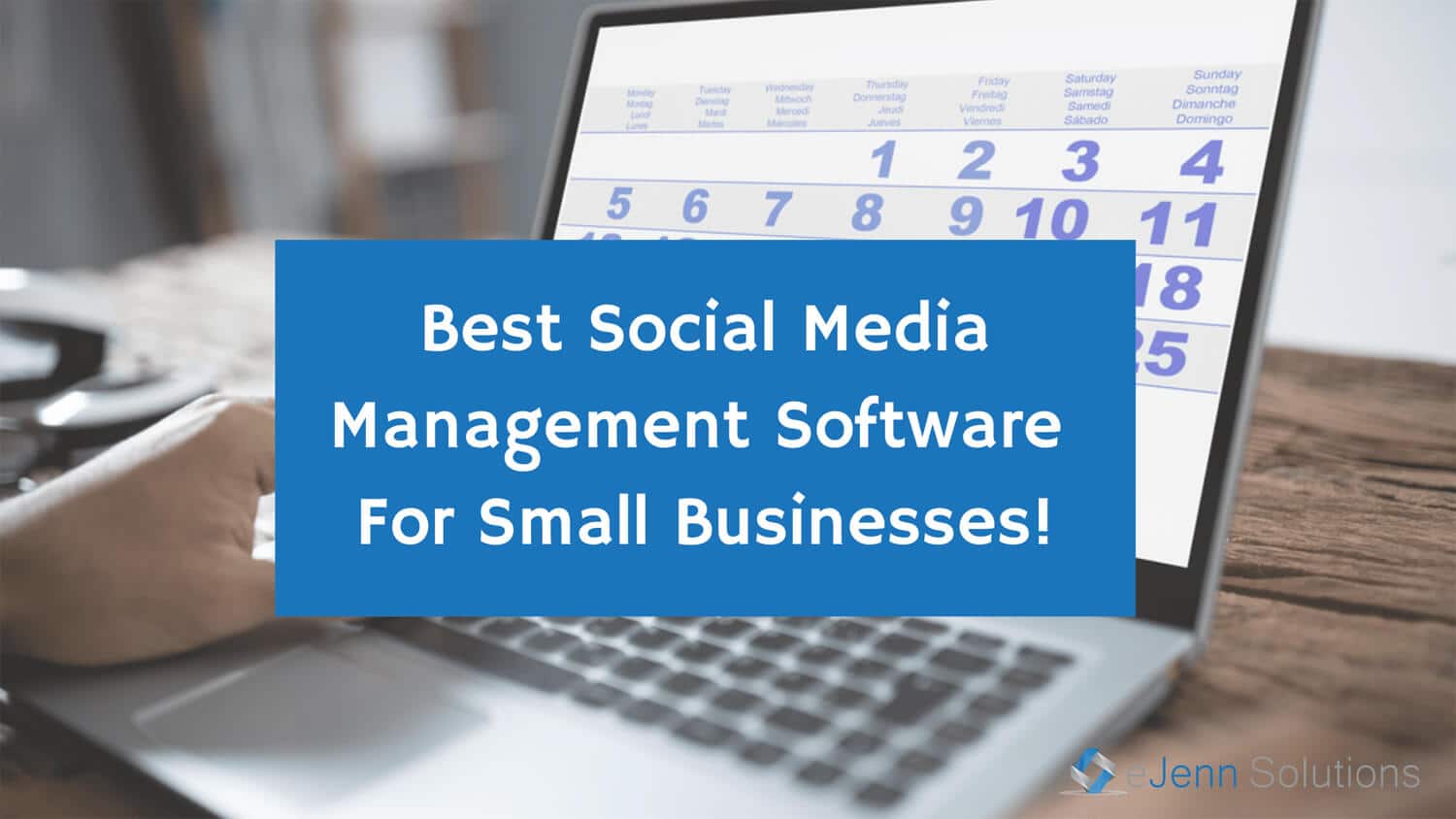 With 2020 thankfully fading away, it's a good time to start thinking about goals and planning for the next year.
Naturally, the eJenn Solutions team has social media on our minds. If you're anything like many other business owners, we bet your social media presence could use some love. When you've got a lot on your mind, planning out social media content (and posting consistently) tends to fall to the wayside.
The good news is there are social media management tools that can help. Start 2021 on the right social foot with a powerful helper that will take your social media presence to the next level.
Social Media Tools Updated for 2021
One of the first social media management platforms in the game, HootSuite allows you to create and schedule posts, manage your social channels, map out upcoming content, and interact with users all from one place – their platform.
The paid plans start at $29/month, but they do offer a 30-day trial, and even have a limited free plan so you can really kick the tires and get a feel for how it works.
While MeetEdgar can also do the post scheduling and automation for you, it also offers a unique feature: it can write posts for you (cue spooky music!). The software picks and chooses bits from articles found online, and all you have to do it hit the share button!
Plans for MeetEdgar start at $19/month, and they also offer a 7-day trial to check them out.
Like all of the softwares on this list, Everypost makes it easy for small businesses to curate content and customize and schedule posts from one spot. The platform is pretty basic, but if you're just dipping your toe into tools like this, basic might be a good place to start.
Paid plans start at $9.99/month, but they do have a limited free plan to give them a try.
Buffer has been around for a while, and has a pretty easy-to-use interface for all social platforms, including Instagram. Depending on which plan you choose, you can connect up to 25 social channels, and schedule up to 2000 posts.
Paid plans start at $15/month, and they offer a basic free plan for 3 social channels and 10 scheduled posts.
As the first-to-market Instagram scheduler, Later offers a visual drag-and-drop interface for scheduling posts, making it easy to see what's scheduled and when. They also help you find content that fits within your brand, and then post it to multiple social channels with a few quick clicks.
Later is 100% free to use, but they do offer options for upgrading to paid features, which start at $12.50/month.
Zoho Social is part of the Zoho family of products (which include a CRM and other business software). With Zoho, you get unlimited posts, and can create custom reports to analyze what's working with your social media. You can also schedule posts to repeat if there's particular information you want to make sure your followers get periodically. Plus, when you sign up for a paid plan, you get two team members included.
Paid plans start at $10/month, and they also offer a free option to give them a try.
CoSchedule started as a way for bloggers and content marketers to manage their content calendar from within WordPress. Now they've grown into a content marketing, social posting powerhouse!
Their Blog Calendar helps you organize your content and social posting all in one place, while their Marketing Calendar is where you can keep track of all your marketing efforts from one convenient location (and includes email marketing, too).
CoSchedule offers a free trial, and their plans start at $14/month for the Blog Calendar, and $29/month for the Marketing Calendar.
Last but not least, is SproutSocial. Yes, SproutSocial can schedule posts, but there's so much more it can do. It offers reports and analysis, keyword and location monitoring, and advanced workflows. A lot of social media bang for your buck!
They do offer a free trial, but once the trial is over, the lowest plan is $99/user/month.
2021 Is Your Year for Social!
As a friendly reminder, these tools are great for helping you manage when to post content and where to post it. They'll even gather data for you about what's working (or not).
But the content? That you still need to create on your own.
If you're ready to give one of these social media scheduling products a try, you can get started right away with our handy freebie "10 Social Media Posts You Can Use Right Now". Just click that last link and it will be in your inbox sooner than you think – and you'll be off to the social media races!