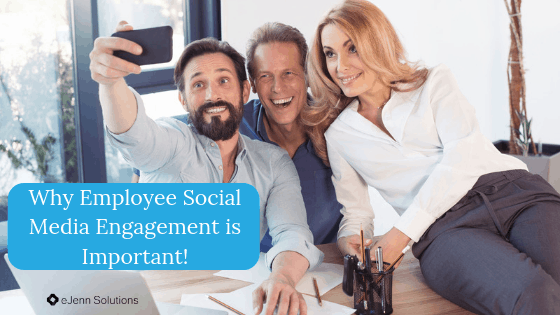 In 2019, almost all businesses are embracing the benefits of sharing online content on social media. Maintaining an online presence on social channels brings an increase in traffic, brand awareness and sales conversions, and is an integral piece of modern business marketing. Now with these aspects of sharing your content online mastered, it's time to take it a step further with employee engagement. Implementing this strategy can take the benefits of social media marketing and multiply them.
According to LinkHumans, employee engagement is "is a term used to describe the exposure that employees generate for brands using their online assets." The goal of these programs is to leverage employees' social networks for the benefit of the employer and also for the employees themselves (Source). Employees sharing company content through their personal network produces advantages that social media marketing on its own could not. Keep reading to find out how your company could benefit from employee engagement.
Why having employee engagement and support is important!
1. Your content reaches more people.
2. Your content becomes more effective.
3. Your sales will increase.
4. Your content appears more credible.
Overall, "employee advocacy spreads ownership of your content strategy across your organization, enlists skills and influence from everyone, and rewards them by increasing their own reputation and effectiveness in return." (Source) Having an active employee engagement plan creates a whole new playing field when it comes to attracting customers and growing your businesses. For help on starting employee advocacy in your businesses, check out these resources: