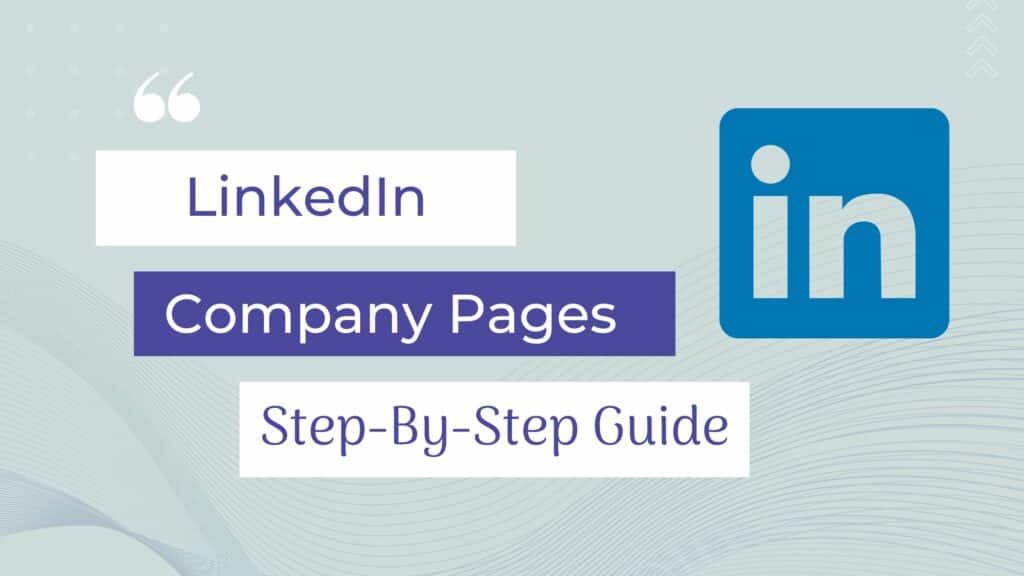 If you've been looking for the perfect way to elevate your brand, network with industry leaders, and showcase your company's unique value, you've come to the right place. In today's post, I'll walk you through creating a LinkedIn Company Page to grab attention, engage your target audience, and foster valuable connections. Let's dive in!
Why Have a LinkedIn Company Page?
Why should you create a LinkedIn Company Page? With over 900 million members worldwide, LinkedIn is THE platform for professionals to connect, learn, and grow their careers. By establishing a presence on LinkedIn, your company gains credibility, visibility, and the opportunity to connect with potential clients, partners, and employees.
Eight Advantages of Having a LinkedIn Company Page
Increased brand awareness: A LinkedIn Company Page allows you to showcase your brand's unique identity, from your logo and cover photo to your company's values and mission. This helps create a strong and consistent brand image, making it easier for potential clients, partners, and employees to recognize and remember your business.
Enhanced credibility: Establishing a presence on LinkedIn, a platform specifically designed for professionals and businesses, signals to your audience that your company is legitimate and trustworthy. This credibility can be further strengthened by regularly sharing valuable content and engaging with your network.
Access to a large professional audience: With over 774 million members worldwide, LinkedIn offers a vast pool of potential clients, partners, and employees. A well-crafted Company Page can help you reach and connect with this audience, expanding your network and opening up new business opportunities.
Improved search visibility: LinkedIn Company Pages are indexed by search engines, meaning they can appear in search results when users look for information about your business or industry, by optimizing your Company Page with relevant keywords and phrases, your visibility on search engines like Google and Bing.
Talent attraction: A LinkedIn Company Page enables you to showcase your company culture and highlight current job openings, making it an effective platform for attracting top talent You may portray your company as an employer of choice by making an effort to interact with your audience and sharing information that exemplifies your company's culture.
Insights and analytics: LinkedIn offers administrators insightful data on the effectiveness of company pages. You may use this information to better understand your audience, monitor interaction, and spot areas where your content strategy needs work.
 Promotion of goods and services: A LinkedIn Company Page Superpower is a great way to reach a specific audience with promotions of your goods and services. By publishing case studies, customer recommendations, or product demonstrations, you may demonstrate the value of your business and build interest in your products.
Thought leadership: Regularly posting informative and engaging content related to your industry can position your business as a thought leader. This enhances your credibility in the eyes of your audience, enhances your reputation, and makes it more likely that prospective customers, partners, or workers will pick your business over your rivals.
By utilizing these advantages, a LinkedIn Company Page can develop into a potent networking and marketing tool that will aid in expanding your company, recruiting top personnel, and creating deep relationships within your sector.
Basics Assets Needed Before You Begin
Ready to build a standout Company Page? Here's what you'll need:
Cover Photo: Choosing a high-quality cover photo that fits your company identity and grabs your audience's attention is essential.
A compelling logo: A well-designed logo lends credibility and distinguishes your business from competitors.
Your Company "About" section:  This section should succinctly yet effectively communicate your company's history, mission, values, and objectives.
Featured content: To encourage consumers to learn more about your offerings, and highlight your greatest work through blog articles, case studies, or videos.
Creating a LinkedIn Company Page Step-by-Step
Once you've gathered your materials, let's create your LinkedIn Company Page in just a few easy steps:
Log in to your LinkedIn account and click "Work" in the top-right corner.
Scroll down and click on "Create a Company Page."
Select the type of business you own (e.g., Small Business, Medium to Large Business, etc.).
Fill in your company's name, LinkedIn public URL, website, industry, and company size.
Add your company's logo, cover photo, and "About" section.
Once you click "Create page" – your LinkedIn Company Page is LIVE! Congratulations!
Optimizing the Page You Created
The next step after creating your Page and it's published, it's time to optimize it for maximum impact.
Here are some tips to get started:
Be Consistent: Share valuable content consistently. This will keep your followers engaged by posting industry insights, company updates, and behind-the-scenes looks at your team.
Use hashtags and keywords: Make it easier for users to discover your content by using relevant hashtags. When naturally able, remember to use keywords in your posts.
Engage with your audience: Respond to comments and messages promptly, and participate in industry-related groups and discussions.
Encourage employees to share: Ask your team members to update their profiles (and connect their profile to your newly created company page, engage with your content, and share your Company Page with their networks.
Now it's your turn! Head over to LinkedIn and create your Company Page today. With the right strategy, you'll be well on your way to expanding your network, boosting your brand, and achieving your business goals. Happy networking!
Protip for Businesses
Make your LinkedIn Company Page even more effective, by basing it on popular Google searches:
Optimize for LinkedIn search: Just as with search engines, optimizing your Company Page for LinkedIn's internal search function is essential. Include relevant keywords related to your business and industry throughout your page's content. Equally important, is using keywords in the "About" section, to increase the likelihood of appearing in search results.
Leverage Showcase Pages: As an extension of your Company page on LinkedIn, use showcase Pages.  Utilizing this feature allows you to highlight specific products, services, or business units. These pages can aid in audience segmentation and offer more targeted content. Visit your Company Page, pick "Admin Tools," then "Create a Showcase Page" to start creating a showcase page.
Sponsored Content:  Use Sponsored Content for marketing your Company Page articles to a broader audience. Sponsored Content is LinkedIn's native advertising solution. This allows you to connect with potential customers or business partners outside your current network. Utilizing Sponsored Content, can increase traffic to and engagement with your Company Page.
Use LinkedIn Analytics: Keep an eye on the statistics for your Company Page. This will help you to learn more about your audience's demographics, your content's effectiveness, and engagement patterns. Utilize this information to refine your targeting, hone your content strategy, and maximize your LinkedIn presence.
Cross-Promote Your Page: On other platforms, publicize your company page. Cross-promote by adding a LinkedIn follow button to your site. Be sure to include a link to your Company Page in your email signature too!
Join LinkedIn Groups: Participate in LinkedIn Groups related to your industry or niche. This will help establish your business as a knowledgeable and helpful resource. By engaging in meaningful conversations, answer questions, and share your Company Page content when relevant. This will help increase your visibility and expand your network.
Utilize employee advocacy: Encourage your employees to add your company to their LinkedIn profiles. Then encourage them to share your company page content, and engage with your posts. This will expand your reach, demonstrate your company culture, and help attract potential clients and talent.
We hope this has provided you with a great start to creating and maintaining your business social media accounts.  If this seems a bit overwhelming – hiring a company like ours can help take this work off your daily "to-do" list . This allows you to keep focused on important day-to-day things of running your business.